Bamboo Strand Flooring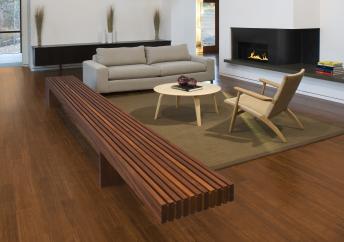 Smith Fong Bamboo Strand bamboo flooring combines beauty with exceptional durability. Strand bamboo is different from conventional bamboo products, both visually and structurally: flooring planks and panels are manufactured through a process in which bamboo strips are compacted into a super-dense block. The composite material is then milled into planks and panels. No urea-formaldehyde is used in the production process.
Our strand technology yields a flooring product that is three times the hardness of traditional red oak flooring.  Smith Fong Bamboo Strand bamboo floors can be installed in high traffic commercial environments as well as in residences. 
Strand flooring is Smith Fong Bamboo Pure and FloorScore-certified, and can be specified 100% FSC certified.
Smith Fong Bamboo Strand bamboo flooring options include: Smith Fong Bamboo Strand Havana, Sahara, Neopolitan, and the newest addition, Stiletto, which includes stained and matte options to coordinate with your versatile interior design needs.
Material – 100% bamboo
 
Finish -Multi-Coat Polyurethane or Unfinished
 
Fire rating  – ASTM E648 Critical Radiant Flux, Class 1 1.0 plus, Highest Rating for Class 1
 
Hardness – ASTM D1037, Janka Ball Hardness Test Average Hardness 3000 lbf
LEED® credits – MRc6: Rapidly Renewable Materials IEQc4.3: Low-Emitting Materials – Flooring Systems (no added urea-formaldehyde)  MRc6:
Rapidly Renewable Materials  MRc7: Certified Wood
Finish rating – ASTM D4060 and ASTM D3359 adhesion 21000 rotations, 4B adhesion rating