BambooQuiet Sound Reduction Flooring System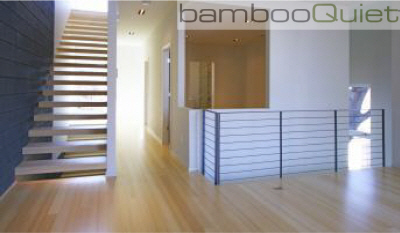 BambooQuiet absorbs the pitter patter of little and not so little feet in your multi-level home or apartment.  It enhances any living situation where there are feet overhead by drastically reducing the sounds of walking, playing, and all the little knocks of everyday life. BambooQuiet is an excellent choice for apartment buildings, condominiums, and single family homes with more than one level because of its sound absorbing ability. 
 Technical Product Information: 
The material in this product comes from well-managed forests, independently certified in accordance with the rules of the Forest Stewardship Council
SoyBond products have been certified by SCS Certification Systems to meet the indoor air quality standards of FloorScore®.
Material  – Flooring: 100% bamboo   Underlayment Pad: 93% post-consumer recycled rubber
LEED® credits – IEQc4.3: Low-Emitting Materials – Flooring Systems (No Added Urea Formaldehyde)  MRc6: Rapidly Renewable Materials  MRc7: Certified Wood  MRc4: Recycled Content
You can use BambooQuiet with any Smith and Fong Bamboo floor or Durapalm palm floor. Pair the Bamboo SoyBond floor with BambooQuiet's 93% post consumer recycled rubber subfloor system and you've not only eased your conscience, you've eased your ears into a world of quiet. Play with limitless combinations you can make by pairing Bambooquiet with any Bamboo  floor, Durapalm or Deco palm floor.  Bamboo flooring and PlybooQuiet acoustical underlayment system work together harmoniously while keeping things green.
BambooQuiet underlayment system is only sold with Smith Fong Bamboo flooring and can be purchased here : BambooQuiet Flooring.